See on Scoop.it – Tinkering and Innovating in Education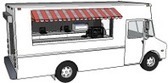 "What is a Mobile Makerspace?
A Mobile Makerspace is a BUS, VAN, RV, or a TRAILER packed full of educational toys such as 3D printers, CNC machines, laser cutters, 3D scanners, doodle bots, small robots, alternative energy toys, simple crafts, and so much more! It is about giving EVERYONE of ALL AGES and ALL walks of life the opportunity to get their hands into cool technology and learn about it first hand.
Schools, care centers, community centers, and libraries often can not afford and do not have the space to house the educational equipment that a Mobile Makerspace can. A Mobile Makerspace is built and maintained by Makers, keeping expenses low. This includes building most of the equipment used to teach and learn. Part of the learning experience is to learn how to and to demonstrate how you can build and reproduce these types of tools for yourself at a very low cost.
This project has been started in Vancouver, BC, Canada"
from source: http://mobilemakerspace.com/
ghbrett's insight:
This is a great idea. Reminds me of cities and counties that make good use of Book Mobiles as libraries on wheels. There also is a definite excitement that a hands-on experience creates. 3D printers are becoming cheaper every week. Staples Office Supply store even sells one now for around $1,200 US. On the net there was report of a 3D printer available for about $350 US.
Computers are getting cheaper, paper printers are less expensive. Now we are seeing analog development devices reaching a price range that small groups can afford to purchase for their learning and experimentation.
see also:
https://www.facebook.com/MobileMakerspace
http://hackerspaces.org/wiki/Mobile_Makerspace
See on mobilemakerspace.com